FTTH Installers Communications can provide your company with experienced central office technicians, administrators, network engineers, and cerified network technicians. We can provide you with quality end to end technical network installation,equipment and services or provide you with an option for long term contractual employment opportunities. (SEE BELOW)
Equipment
FTTH Installers provides a variety of equipment installation services which meet or exceed the original equipment manufacturer's certification standards, and have been delivering turn-key installation solutions for Central Offices - nationwide since 1967.
Installation of:
Switching Equipment
* All types of Nortel Central Office equipment, such as DMS-10, 100, 250, 500, AccessNodes, RLCM, RLSE, OPM, and OPSM.
* Additions to Seimans Central Office equipment, such as DCO, RLS-1000,
RLS-4000, and RLG's.
Transmission Equipment
* Alcaltel, NEC, Tellabs, Telect, Marconi, Discs, Lucent, UMC 1000, and Bits Timing Clock.
Fiber Optic Equipment
* OC-3 thru 192's, Fujitsu, Nortel, Alcaltel, Lucent, Cisco, Telco systems, Install, Turn-up, and Test.
* ADSL/ATM/DSL Equipment (Video/Router)
* Fujitsu, Lucent, Alcatel, ATM Cisco, Routers, DSL Systems, Marconi, and Paradyne.
Power Equipment
* All types of power equipment, such as Argus, Lorain, Nortel, rectifiers, and battery strings, and complete grounding of Central Office.
All Products Tested
No second-guessing the quality of the product. We test all levels of equipment before it gets in your hands.
Our Experience includes:
* DMS-1
* DMS-10
* DMS-100, 250, 500
* DCO
* FIBER OPTICS
* POWER EQUIPMENT
* T-1 PRODUCTS
* CUSTOMER PREM
* DATA AND VENDOR EQUIPMENT
Engineering
We have the support for the equipment we sell. Whether it's power, transmission or Central Office design, we can help you with your project needs. Our staff has extensive experience with floor plan design, cable rack layout and expansion projects with independents nationwide.
Installation
FTTH Installers provides a complete portfolio of network services, including: engineering and product management, network design, operation, and system integration, as well as turn-key installation of Central Office, power, protection, and transmission systems, including fiber optic, and maintenance of any manufacturer's telecommunications equipment. Additionally, FTTH Installers also provides training and technical support.
FTTH Installers unique qualifications in Broadband Networks, DSLAM/DSL, and Router/Video products will help you get to market quickly and establish new revenue streams for an immediate return on investment.
With long term contractual employment, you don't risk getting a full time employee- rather you have the option to evaluate and utilize his or her services as we would provide all the benefits to the contracted employee.
Please remember thatFTTH Installers strength is in providing technical services with industry trained individuals. So if you do not see the exact discipline or skill set that you are looking for, please remember that we can find whatever type of technician you need. Please contact your local FTTH Installers office, give us an exact description of what you are looking for and let us show you what we can do for your company.
The Central Office Installation division ofFTTH Installers specializes in supplying CO Installation Contractors with qualified installers for long term and short-term projects. All of our technicians are background checked and drug tested.
We have installers of all levels ready to start work on your projects ASAP. Most of our projects consist of Co-Location Installations & maintenance, Switch (DMS, 5ESS) installation & Power installs.
FTTH Installers also supplies Field Service PBX & Key System Technicians. We make it a goal to know what systems you sell & service so we can keep you informed when that type of switch service technician comes available.


We can supply your company with any type PBX or Key System Technician, no matter how large or small the switch.
Place an order with us, and we guarantee that we will have the position filled within a week with a qualified switch technician who will be capable of installing, programming and maintaining your equipment.
The Telco/Carrier & Central Office division ofFTTH Installers provides qualified Switch Maintenance, Transport and Central Office Installation Technicians on contract and permanent assignments. We supply all levels of telecommunications professionals in both inside and outside plant environments.
Please take advantage of our West Coast presence to help solve your staffing needs. We currently have operations in the following States/Cities:Florida:Tampa, St. Petersburg CA:Los Angeles, Orange County, San Diego, Oakland, Fresno, Stockton, San Franciso Bay Area and San Francisco- soon Nevada. We do however have national coverage on long term projects.
Please review the following capabilites for our Central Office Installation Technicians: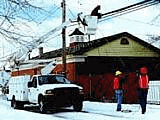 | | |
| --- | --- |
| Central Office Installer Level I | At least 6 months minimal experience with tools: familiar with iron work, cabling, color codes, assist in locting circuits, basic test equipment |
| | |
| --- | --- |
| Central Office Installer Level II | 1 to 4Years experience: technician proficient with schematics, Wire Wrap, rack bracing, Terminations, , Dressing Cable, Transport equipment install, Bell Standards,Lacing (Stitching) |
| | |
| --- | --- |
| Central Office Installer Level III | 4 years plus experience: Has ability to manage & lead a crew, power install, turn-up & test of transport/switching equipment, understanding of digital circuitry from DSO to DS3, certified on manufacturers test equipment. |
| | |
| --- | --- |
| Transport Tech | Test & turn-up of T-1 to T-3(DS0-DS3) level circuits. DACS, Sonet OC12, OC48, OC192 Channelbanks,T-Berd, Firebird, Sunrise Test-Sets |
2010FTTH Installers, Inc. all rights reserved.