Tampa Data Cabling-Tampa Cabling Contractor- Tampa Network Cabling- Tampa Structured Cabling Contractor-Tampa Data Contractor- Tampa Project Management-Tampa IT Services- National Rollouts- Tampa Fiber Optic Installations- Tampa Cable Management Solutions-Tampa Cable Removal Services-Tampa Network Integration-Phone Systems- Security-Hillsborough Cabling Contractors-Hillsborough Network Cabling-Hillsborough Structured Cabling Contractor-Hillsborough Project Management Solutions-Hillsborough Cable Mangement Solutions-Hillsborough Cable Removal Services- Hillsborough Network Integration-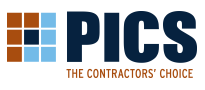 Call us at (855) 836-DATA or click the chat button below to talk to us
FTTH Installers now offers the Tampa data cabling, network cabling, fiber optic installations, residential data and smart home services and a variety of industries structured cabling & IT services for companies, chain stores -or any org. FTTH Installers can assist a Tampa chains or companies with multiple locations, such as franchises, drug stores, retail stores through our field offices and affiliated BICSI certified Tampa installers fully versed in fiber optic distribution designs and installations. We are a data contractor and system integrator specializing in quality fiber optic cable installations. Our office is located in Tampa, Florida.
FTTH Installers Now Offers 4G Networking Services In Tampa
Contact Us FTTH Installers's mail: sales@californiacablingcontractors.com
Website: www.californiacablingcontractors.com
Toll Free: (866)-650-DATA (866)-650-3282 or (727) 547-2200
Fax: (360) 234-7396
We service all of Florida including Tampa Bay, Orlando, St. Petersburg, Bradenton and Sarasota and will provide services to other locations on a daily or project basis. Please call us first. FTTH Installers specializes in all areas as a fiber optic cable installer of both OSP fiber optic cable installations- or underground fiber cable- to backbone structured cable fiber optic cable installations. FTTH Installers also offers the ability to tie in the fiber optic cable installations to the Network Integration side of your cable plant through the use of fiber optic patch panels, fiber optic transceivers or fiber optic multiplexers that migrate the fiber optic light signals into recognizable data streams for copper based switches. FTTH Installers can take any protocol -data line or signal from a T1 to OC-12 from the central office to the desktop.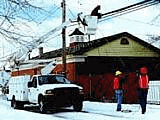 St Petersburg Commercial Cabling Services We are an structured cabling specialist,IT services provider, network integrator and interconnect company that provides structured data cabling contractor installations, fiber optic cable installations, smart home installations, cable testing, telephone systems and Cisco CCIE network installations and services. Our certified RCDD, Certified Network Specialist and BICSI Technicians work as team to bring the latest structured cabling standards (ETA/TIA 568A/B) and fiber optic cabling technologies to our customers.We can offer you design or design- build services at affordable rates. Our network integration specialists are backed by seasoned teams of administrators, project managers, and technicians who are equipped to handle virtually any network installation project.
FTTH Installers has in place regional staff to assist with all your questions and courteous, confidential and complimentary site surveys and estimations. .
Professional Installation, Superior Results
From the Networking closet to the desktop, we provide IC2S customers with professional installation of every cable. And here are some of the extra steps that we take to make sure that our customers are receiving the best in products and service.
Our estimating and tracking system allows us to accurately assess cable needs for every job. You never pay for wasted cable.
All cable is properly labeled at the closet end and at the drop location.
Drive rings, plastic and Velcro cable wraps are used to assure secure, effective hanging.
When needed, cables will be enclosed in a raceway, rather than leaving cables exposed in the office or work environment floor.
After installation and termination, every cable is tested for conformance to today's standards.
FTTH Installers-Your 21st Centry Data Contractor We Now Service All of the 50 States- Call Us For More Information
FAQ's-Click Here
Tampa Network Cabling Is Our Core Service including Cat 5e cabling , Cat 6 cabling , Fiber Optic cabling for and any Structured cabling project :
With more and more businesses turning to Local Area Network (LAN) and Wide Area Network (WAN) solutions for their data communications,FTTH Installers Systems, Inc. recognizes the important role LANs/WANs play in meeting the management needs of operating in dynamic environments.

FTTH Installers Systems, Inc. provides the highest quality communication connection products and services for a wide variety of business computer networking systems. Our principal focus is physical layer data communication installation and service.FTTH Installers Systems is dedicated to providing an unparalleled level of customer satisfaction through flexible, timely, efficient and pleasant service to our clients.

Our team of design technicians share a vast amount of computer cabling knowledge and experience. We have worked within a broad spectrum of client industries to install and support their physical layer cabling needs. Banks, hospitals, manufacturing plants, retail stores and business offices are just a few of the clients that we have successfully serviced. From system planning and design to certification and documentation,FTTH Installers Systems, Inc. can provide the answers you need for your computer networking needs.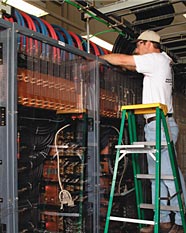 A typical installation includes:
The proper bandwidth cabling for your companies future needs
Patch Panels & mounting racks
Wall Plates or Surface mounted modular boxes
RJ45 Cat5 Female Data Jacks
Testing & Certification Reports
Because of the development of high-speed unshielded twisted pair copper cable, known as Category 5, traditional cabling architectures, including ARCnet, Ethernet, and Token Ring, are being replaced.

The current, but obsolescing, generation of LAN cabling architectures support transmission speeds ranging from about 2.5 Mbps for ARCnet, 10 Mbps for Ethernet, and 16 Mbps for Token Ring. The up-and-coming cabling architectures are either high speed variants of existing ones or new, ATM - ISDN - FDDI. The new Category 5e , CAT 6 copper based architecture supports speeds from 20 Mbps for ARCnet Plus to 155 Mbps for Asynchronous Transfer Mode(ATM) and "Gigabit Ethernet." The fiber based architectures, such as Fiber Distributed Data Interface (FDDI), provides support for LANs as a high speed medium directly to the workstation or as a backbone from closet to closet. It also serves for WANs across a campus or throughout a metropolitan area.

FTTH Installers Systems, Inc. technicians are experienced in the installation, termination, and certification of the new Category 5 e and CAT 6.FTTH Installers Systems has the technical knowledge and practical experience to help assess your needs and determine how Category 5 and Fiber Optic cable can best serve your LAN/WAN integrated system.
Cat 5e cabling,CAT 6 Cabling, Coax Data Cabling, Fiber Optic Cabling , Structured Data Cabling Services including certified testing at it's best!
We offer a wide range of services from structured cabling services, IT services, fiber optic cabling, WIFI, VOIP. and much more.We can help you integrate data and telecommunication services throughout the entire United States.. Our customer service department, systems engineers, contracts coordinator and technical support staff have an in-depth knowledge of the telecommunications industry. We work closely with our customers to develop and deliver innovative solutions for the most challenging, business critical requirements.
Tampa Network Cabling Expertise in the USA and InterTampaly:
Installs Network Data Cabling including Cat 5e & Cat 6 and Voice Cabling Systems both locally and Tampaly.
Data, Voice and A/C Power Line Surge Protection on a Tampa Basis.
Multi and Single Mode Fiber Optic Cabling Systems
Is a certified with several maufacurers offering a 25 year data cabling installation warranties.
Will guarantee to provide and oversee quality cabling installations and strive to meet all of your Cat5e, Cat 6 and Fiber Optic Cabling Needs.
Trains and re-trains its installers and service professionals to maintain the highest possible quality.
Meticulously adheres to all Tampa Electrical Codes, TIA/EIA Cabling Standards and TSB Cable Testing Standards.
Is committed to providing the latest in technological advances to its customers as a BICSI Corporate Member, with BICSI certified RCDD Project Managers and Registered Cabling Installation Technicians.
Maintains a complete line of Uninterruptible Power Supply (UPS) and Power Conditioning equipment to meet the need for Network/Computer grade A/C Power.
Wireless Installation for LAN and WAN Applications. We can install complete wireless networks or WIFI- Hot Spot locations inner office or Outside Wireless Networks
Hospital Wireless, Restaurant Wireless, Corporate Wireless Network
FTTH Installers also welcomes the opporunity to work with the Department of Defense in securing our nation's network security by offering our fiber optic cabling and fiber optic security systems.
Our certified RCDD, Certified Network Specialist and BICSI Technicians work as team to bring the latest fiber optic technologies to our customers. We provide design, installation , and certifications of fiber optic cabling systems in central offices, POP sites, commercial, and residential sites. Our certified RCDDs and LAN/WAN Specialists work closely with contractors and end users to deliver the latest cabling technologies that best suit the needed applications.
Tampa Data Contractor, Tampa Project Management, Tampa Structured Cabling Contractors, Structured Cabling Services,Cisco Certified
We can Dispatch Technicians Anywhere In The U.S. Or Overseas
Turnkey Tampa Project Management For Multi-Location Companies- Let FTTH Installers's "A-TEAM" handle all your logistics &-installations- across the USA, Alaska, and Hawaii

Turnkey Tampa Project Management

For Multi-Location Companies- Let FTTH Installers's "A-TEAM" handle all your logisticas &-installations- across the USA, Alaska, and Hawaii

Tampa

Routine and emergency service calls

Tampa

Annual maintenance contracts

Coordination with local phone company

Software upgrades

Tampa Equipment brokering

Tampa Quick response time

- two to four hours for emergency situations- We also offer immediate telephone-toll-free technical support contracts with RMAT diagnostics.

We will work with your company's budget to offer you a very competitive rate structure for any or all our services

On & Offsite Service FTTH Installers service comes with a guarantee of quality and a commitment to support. Because we feel so strongly about professionally serving our clients, we offer on and offsite services designed to meet your needs:

Onsite-Project Management-IT Services-Installations


FTTH Installers has Available- 24-hour, 7-day a week dispatching by field-trained support staff
FTTH Installers Professional and helpful technicians who arrive on time and in uniform
FTTH Installers Provides Customized software available that allows you to monitor and document progress in real-time and at your convenience
FTTH Installers will provide Short- or long-term onsite IT Sevices and project management-that frees up your staff

Offsite-Project Management-IT Services-Installations


FTTH Installers has available 24-hour, 7-day a week dispatching by field-trained support staff
FTTH Installers's Help Desk services available- 24/7 services available
FTTH Installers's Level I support for immediate solutions on a remote basis
FTTH Installers's Level II support includes remote solutions and dispatched technicians
FTTH Installers'sLevel III support with a technician dispatched to your location
FTTH Installers's Level IV support with supervisory-management responsibilites
Tampa Account Staging/Redistribution Of Equipment & Personnel
With most companies these are 'mission critical components'- FTTH Installers offers the following:
Kitting-Receive shipments and equipment- FTTH Installers will consolidate-combine-build-racking-fiber optic- equipment for your company offsite- and re-distribute to other locations for you

Discounted hardware-we can offer extreme discounts for all your hardware equipment including fiber optic cable, gigabit ethernet switches, routers, hubs, patch panels- patch cords.

Let FTTH Installers "bundle" your equipment and installation costs under one contract- let us do all the work for you from design to installation to 24/7 warranty-network administration

Check for damage to any equipment during shipment

Record serial numbers for all equipment

Set up equipment in the prestage area

Plug/connect all equipment based on client configuration

Run ID-specific programming to meet client configuration

Install software and/or client-defined image

Configure system and software

Test systems

Run diagnostics and customer-provided tests, including tests of input and output devices

Repackage components

Clearly label components

Perform asset tag management

Ship to locations per client instructions
*Information Technology: Call us at (855) 836-DATA or click on the chat button at the top of the page to talk to us
All fiber optic cabling system designs are reviewed and installations quality checked by a Registered Communications Distribution Designer (RCDD). This is a professional designation of the Building Industry Consulting Services InterTampa (BICSI). We ensure that the fiber optic cabling system design, components, and workmanship comply with the standards and practices of BICSI. These standards and practices are elaborated in the Telecommunications Distribution Methods Manual, the EIA/TIA Telecommunications Building Wiring Standard, The Tampa Fire Protection Assn., and the Tampa Electrical Code (NFPA-70). Our fiber optic certifications, extensive experience on fiber optics installation, and knowledge of fiber optic technologies and standards are key factors in our successful delivery of fiber network solutions. leading fiber optic suppliers. Together we can deliver the solution that best meets your application needs, now and long term.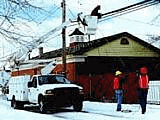 1***Network Cabling- Fiber Optics -Call us at (855) 836-DATA
Our Fiber Optic Services Include:
Design and Installation of Fiber Optic Cabling
Design and Installation of WDM-DWDB-CWDM- MRV Certified
Fiber Optic Termination
Fiber Optic Cable Installation
OSP Fiber Optic Cable Installation
OSP Aerial Fiber Optic Cable Installation
Central Office Fiber Optic Cable Installation
Colo- (Colocation) Fiber Optic Cable Installation
Light Interconnection Units and Fiber Shelves
Testing and Certifications
Fiber Tray and Raceway
Fiber Innerduct
Wall-mount and Freestanding Cabinets and Racks
Fiber Optic Fusion and Mechanical Splicing
Call us at (855) 836-DATA or click on the chat button to talk to us
Our certified RCDDs a nd LAN/WAN Specialists work closely with contractors and end users to deliver the latest cabling technologies that best suit the needed applications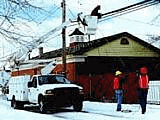 FTTH Installers Communications, a proven data contractor can provide you with a complete set of structured cabling installation services. With our ongoing training through BICSI and our manufacturer partners, you are assured that our technicians adhere to all the latest EIA/TIA standards. FTTH Installers now also offers certified CISCO CCIE network services.
This insures that you will get maximum bandwidth and performance from your cable plant. Your network is only as good as your weakest link. Remember that even if you have purchased the best cabling on the market today, it doesn't guarantee that you will get maximum performance and throughput that it was engineered for.

Your cabling must be installed by a technician who understands and adheres to all the latest EIA/TIA standards.FTTH Installers is a cabling contractor that is Leviton certified on structured cabling EIA-TIA 568 A&B Standards that provides structured cabling contracting services, network design & installation, gigabit ethernet switch installation, smart home installations,cable testing, telephone systems and Cisco CCIE network installations. See our section on cabling standards.
California Offices Northern CA (925) 944-0777 or tollfree (866) 342-3721 or (855) 836-DATA
Tampa Bay Florida Offices (855) 836-DATAor click on the chat button at the top of the page to talk to us in live chat.